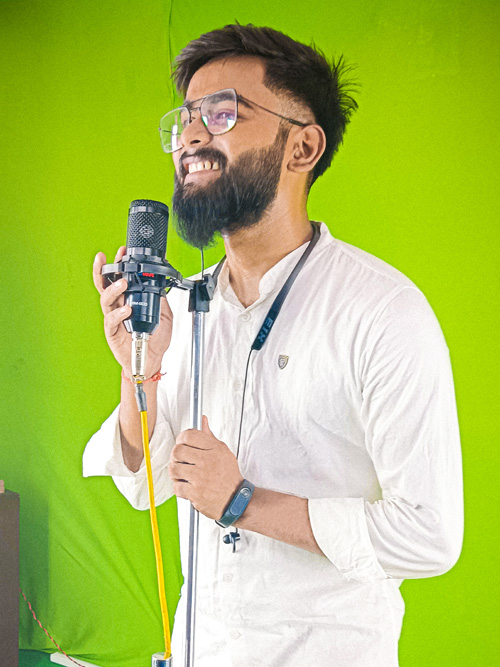 Freelance Singer/ Track Singer/ Live Singing.

.
Bihar best Anchor/ Emcee/ Compere/ Event Host/ Corporate Presenter
Chandrashekhar Mishra is an Bollywood Style Singer, LIVE Performer & YouTuber. Hosted 50+ live shows with 10+ celebrity, More than 15 awards, Corporate shows performed like Hero moto corp, Essel group, Coca-Cola, Hindustan liver, Amul, Samsung, Daikin etc.
Instagram

@artisthubcompany
Make Your Next Event Unforgettable. Submit your artist requirement
Our Expert will contact you to discuss your request in greater detail.
Happy Clients Equals to Happy Us.
We always thrive for the best and our clients feedback is what motivates us to achieve that extra mile.
Artist Hub support really made it easy to find the right artist, a very good support system for us, thanks you for the smooth service.
We have hired multiple anchors and singers through Artist Hub. The team are very helpful and goes above and beyond for their clients
Artist Hub artist is very nice, His singer and anchor is too good.
By Type / Popular Searches
Singer in Patna | Campus Singer in Patna | Charity Singer in Patna | Concert/Festival Singer in Patna | Corporate Singer in Patna | Exhibition Singer in Patna | Fashion Show Singer in Patna | Inauguration Singer in Patna | Kids Party Singer in Patna | Photo/Video Shoot Singer in Patna | Private Party Singer in Patna | Professional Hiring Singer in Patna | Religious Singer in Patna | Restaurant Singer in Patna | Wedding Singer in Patna | Hire Chandrashekhar Mishra for Virtual Event | Hire Chandrashekhar Mishra for Wedding | Hire Chandrashekhar Mishra for Restaurant | Hire Chandrashekhar Mishra for Professional | Hire Chandrashekhar Mishra for Private Party | Hire Chandrashekhar Mishra for Photo/Video| Hire Chandrashekhar Mishra for Kids Party | Hire Chandrashekhar Mishra for Inaugration | Hire Chandrashekhar Mishra for Fashion Show | Hire Chandrashekhar Mishra for Exhibition | Hire Chandrashekhar Mishra for Corporate | Hire Chandrashekhar Mishra for Charity | Hire Chandrashekhar Mishra for Campus |Book Chandrashekhar Mishra for Virtual Event | Book Chandrashekhar Mishra for Wedding | Book Chandrashekhar Mishra for Restaurant | Book Chandrashekhar Mishra for Professional | Book Chandrashekhar Mishra for Private Party | Book Chandrashekhar Mishra for Photo/Video| Book Chandrashekhar Mishra for Kids Party | Book Chandrashekhar Mishra for Inaugration | Book Chandrashekhar Mishra for Fashion Show | Book Chandrashekhar Mishra for Exhibition | Book Chandrashekhar Mishra for Corporate | Book Chandrashekhar Mishra for Charity | Book Chandrashekhar Mishra for Campus